WOODEN PLYO BOX
USI's wooden plyo box is one complete thing for a wholesome cross training workout.  The predrilled and countersunk holes with CNC router cuts make the assembling task easier. Laser marked logos renders it a fine finish and has a classy look with double coat on it.
Adjustable: The best part about USI's wooden plyo box is that it is adjustable in height with side changes. This way you can always manage it as per your height and even increase your jump heights as you progress.
Multiple workouts: USI's wooden plyo box is perfect for jumps, box-squats, step-ups, negative jumps and cross training workouts. It is especially cut out for those looking for intensive lower body training. The first pick of advanced athletes makes wooden plyo box stands out in the fitness regime. USI's wooden plyo box comes with sanded edges to prevent scrapes and missed jumps.
Easy to assemble: Interlocking joints and pre-drilled holes makes it an easy hassle free procedure to assemble when it comes flat packed to you. Detailed Do It Yourself (DIY) instructions will be enclosed in the packaging.
Assembly screws are also provided along with the pack, it comes with an adhesive provided for permanent assembling too.
Assembly time:
o   15-20 minutes with rubber and wood mallet using power screw driver
o   30-35 minutes using star screw driver
Material:  USI's wooden plyo box is made up of durable quality high strength plywood, which has layered wood construction. You need to not worry about the maintenance as it is of shuttering grade and is waterproof.
Description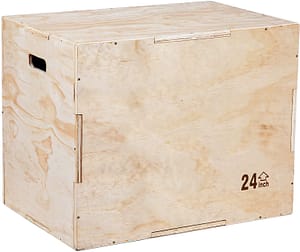 sizes L/M/S